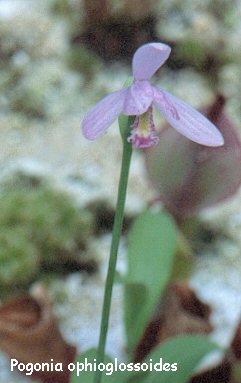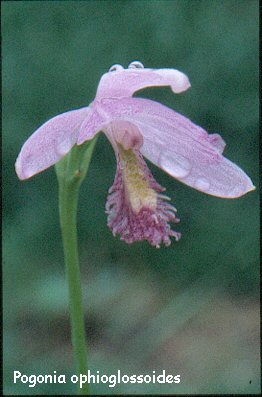 Comments to the offered plants:
Pogonia ophioglossoides, rose pogonia, is a beautiful garden orchid. It is absolut hardy in Central Europe and North America. In favourable conditions, soon large groups of flowering plants will be formed.
Distribution:
About ten species distributed in the temperate region of the northern hemisphere. In North-America and Asia, but not in Europe naturally occuring.
Description:
Pogonia are plants of open wet places, occuring in bogs, wet flats and pannes. A single leave on the lower part of the flowerstem. Up to 25 cm tall with a single flower. The underground part branches and forms large groups of flowering stems. Flowers up to 2 cm, white, rose or red. The lip is ornamented with fringes and bristles.
Culture:
Pogonia are plants of wet open places. They grow in bogs, wet flats, fens and pannes. Leaves are formed in May and flowering starts some weeks later. They are easy in culture, but demand constant water supply in summer. In pot culture a week fertilization is recommended (0,1g/l). Planted in the garden fertilization isn´t neccessary.
Recommended potting mixes:
Soils have to be acidic and free of loam, pH 4 to 5. Low degraded peat moss as basic substrate is suitable. 10% sand, perlite or fine vermiculite can be added. In suitable conditions sphagnum moss will be formed, in which the plants thrive.


Further reading :
Orchideen im Garten: Verwendung, Pflege und Vermehrung. Gerd Kohls und Ulrich Kähler, 1993.Parey ISBN 3 489 636244.
Orchideen für den Garten: Europäische und tropische Erdorchideen. Alfons Bürger, 1992. Ulmer ISBN 3 8001 64876.
Hardy orchids. Phillip Cribb and Christopher Bailes, 1989. Timber Pr. ISBN 0 88192 147 5.
Das Moor im eigenen Garten: Moorgärten anlegen, gestalten und pflegen. Erich Maier, 2000. Parey, ISBN 3 8263 3301 2.
Orchids of Indiana. Michael A. Homoya, 1993 by Indiana Academy of Science. ISBN 0 253 32864 0.