Comments to the offered plants: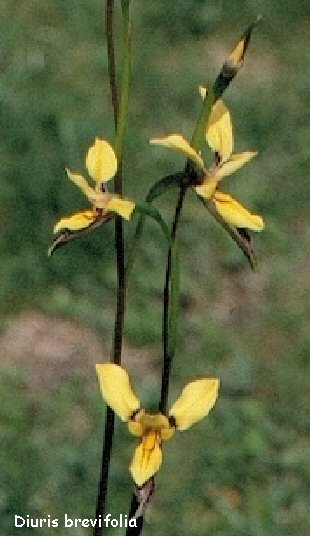 Diuris brevifolia: Endemic (only occuring there) in a small area in South-Australia. Under low scrub and gum trees (Eucalyptus). Late flowering. In Central-Europe from May to June.
Diuris emarginata X orientis: For this cross, pollen from the pure yellow form of Diuris orientis (formerly Diuris corymbosa) was used. Flowers in Central-Europe in May. Like other late flowering exotic terrestrial orchids from Australia and South-Africa, the plants are best moved outside to a sunny place in April. This results in stronger flower stems and more intense colours. Plants will flower for several week. Because the plants stay green longer and dormancy starts later, the new tuber will get bigger, too, compared to greenhouse plants. Light late frosts in May will not be harmful, if the plants have been outside for some time and therefore are hardend again.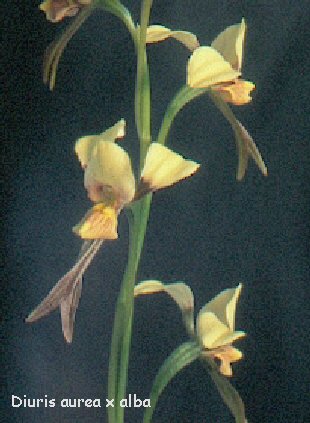 Diuris aurea X alba: One of the most beautiful Diuris-Hybrids. Clear yellow flowers on tall stems. Flowering in the greenhouse in Central-Europe in March for 3 to 4 weeks. Both parents are closely related and the hybrid is fertile.
Distribution:
More than sixty species, endemic to Australia and one species restricted to Timor.
Description:
Flower stems 10 to 100cm high, with 1, 2 or 3, sometimes as many as 10 grasslike leaves. Up to 10 showy and colourful flowers with 2 rounded earlike petals (donkey ears) projecting above the labellum and 2 long, slender sepals (doubletail) beneath the labellum. The flowers mimic those of bush-peas and are pollinated by small bees.
Culture:
Donkey orchids (Doubletails) are easy to grow. All plants are summer dormant and rest as rounded or elongated, fingerlike tuberoids. Plants emerge in late summer and flower in late winter, spring or early summer. Regular watering during the growing period is essential. Culture as sunny as possible. Frost hardy up to -4°C. Fertilize monthly with 0.2g/l until flowering. Reduce watering with the onset of flowers and stop as the leaves die back. Completely dry during dormancy. Occasioally a light spray of water for small plants and seedlings to prevent dehydration. If grown inside, move plants temporary outside in late summer as cool nights and some rain will stimulate plants into the new growing season.
Recommended potting mixes:
80% Seramis or fine to medium grade Perlite. 20% organic components. Favourable are fermented or N-impregnated wood shavings or saw dust. (Toresa has given good results). No peat. Spagnum moss is suitable. Substrates have to be well draining with a pH of 5 to 6.
Further reading:
Cultivation of Australian native orchids produced by the Australasian Native Orchid Society, Victorian group Inc. Helen Richards, Rick Wootton, Rick Datodi.
Orchids of Western Australia produced by the Western Australian Native Orchid Study and Conservation Group. Kingsley W. Dixon, Bevan J Buirchell, Margret T. Collins
Native orchids of Australia. David Jones, 1993. Reed, ISBN 0 7301 0189 4.
Orchids of south-west Australia. Noel Hoffmann and Andrew Brown, 1992. University of Western Australia Press, ISBN 1 875560 13 0.